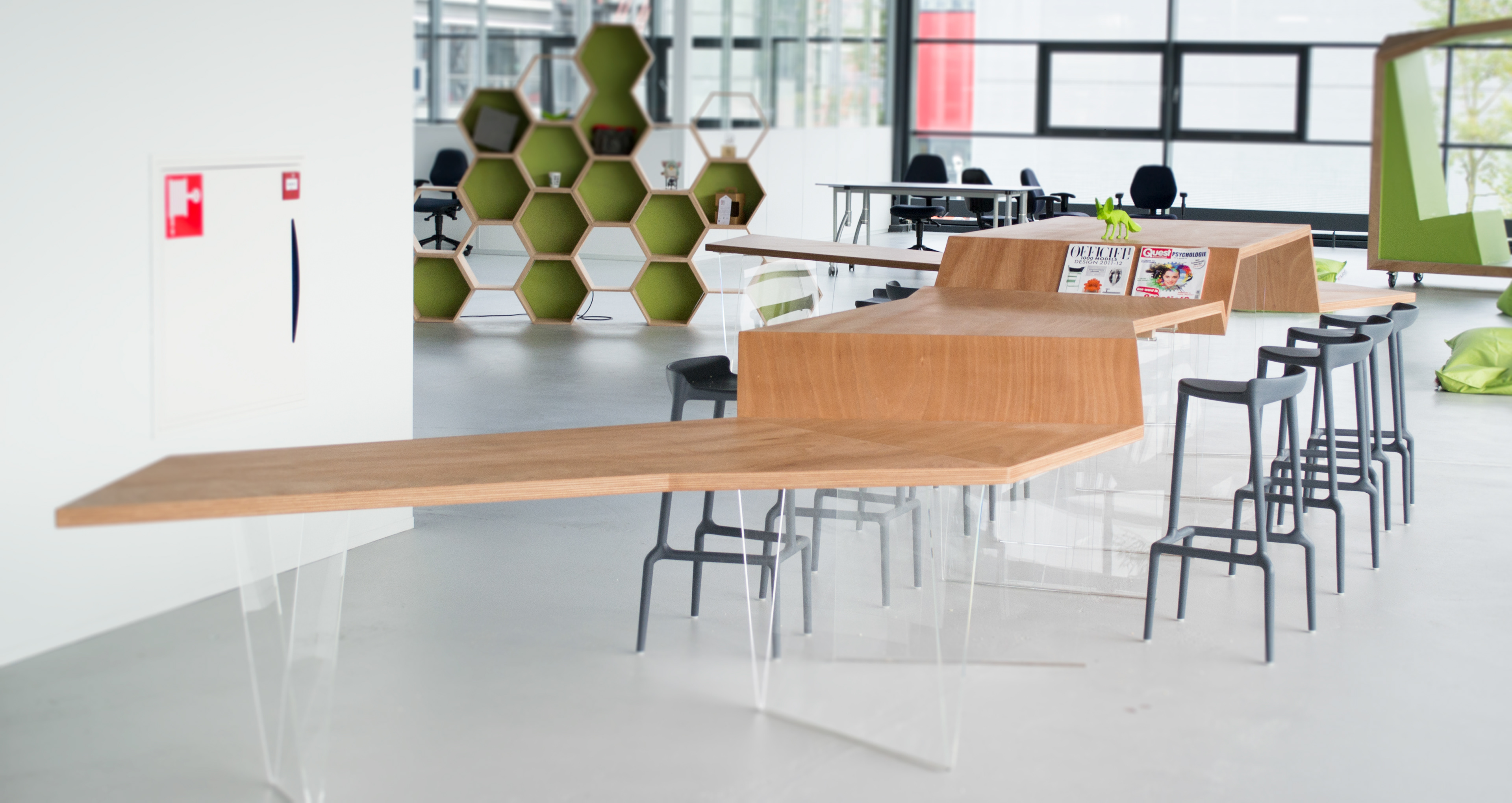 Ideation, Sketching, 3D modelling, Networking/Outsourcing, Furniture building, Project/Team management, Photography, Art Direction, Reporting
The University of Twente DesignLab is a multidisciplinary working space of 2000m
2
 located at its campus.
In the summer of 2014, two colleague students and me were assigned to design and build an interior from scratch that divides the big space into smaller ones, while still connecting the space as a whole. This had to take place in a time slot of 7 weeks.

​​​​​​​
At first, a general style is formed to ensure that every furniture has the same form language, and so bind them together. Collages and sketches are made and markings on the floor are taped in order to find the right dimensions. Final designs are 3D-modelled and either self-built or outsourced to builders, furnishers and interior building company Brok.
 Green is the colour that runs through the entire DesignLab; a colour that embodies life, freshness and creativity.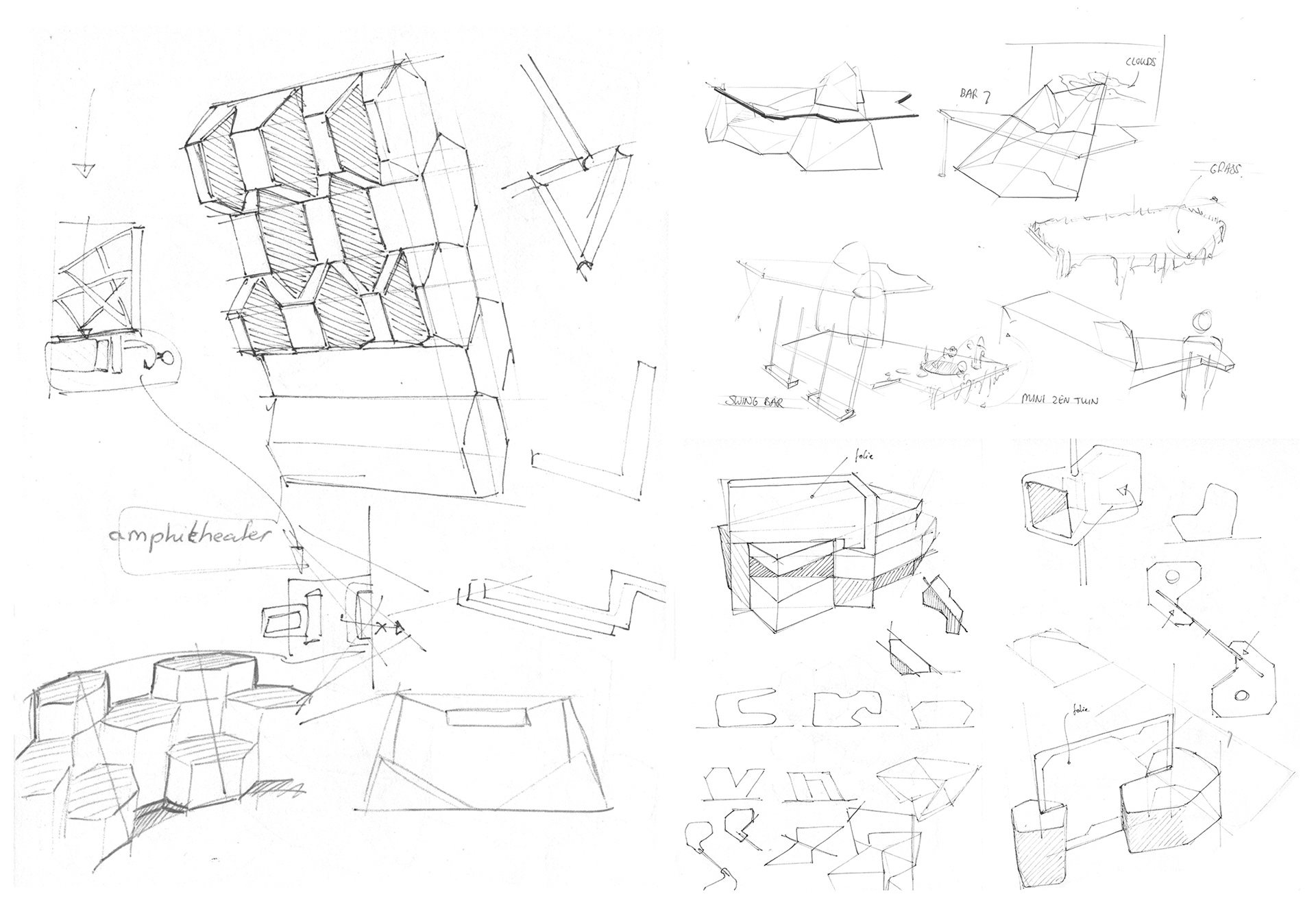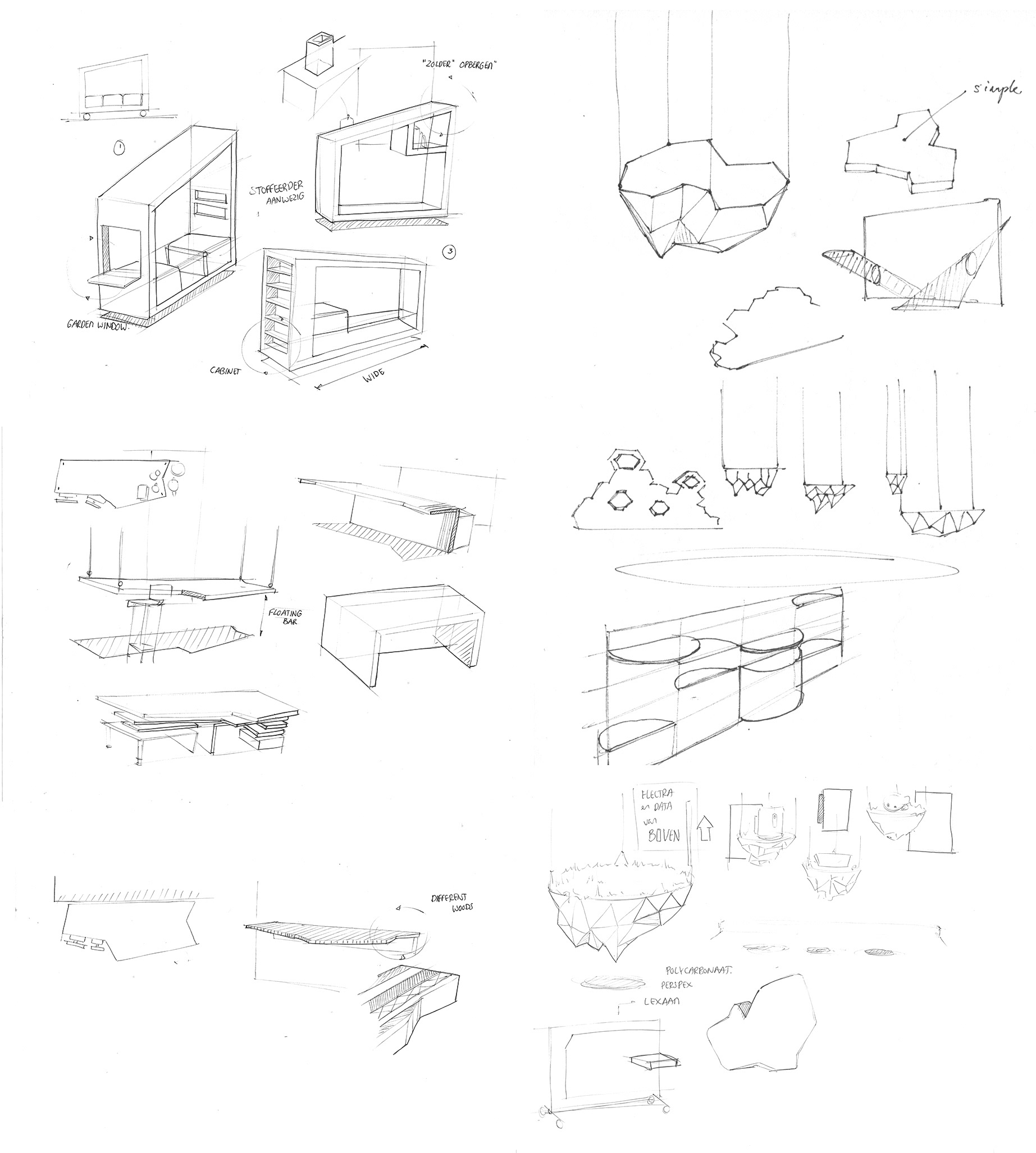 Sketches by Ruben van den Hout
'Low poly' is the style that is chosen, a style which uses simple edged shapes to define the total shape.
The 'faced' / 'edged'-designs create a coherence between the furnitures in the series.
All designs are done by Bram Norp, Ruben van den Hout (at the time fellow students industrial design at the University of Twente) and me. Except from 'Lectern', which was done solely by me. A selection of the realised designs is shown below.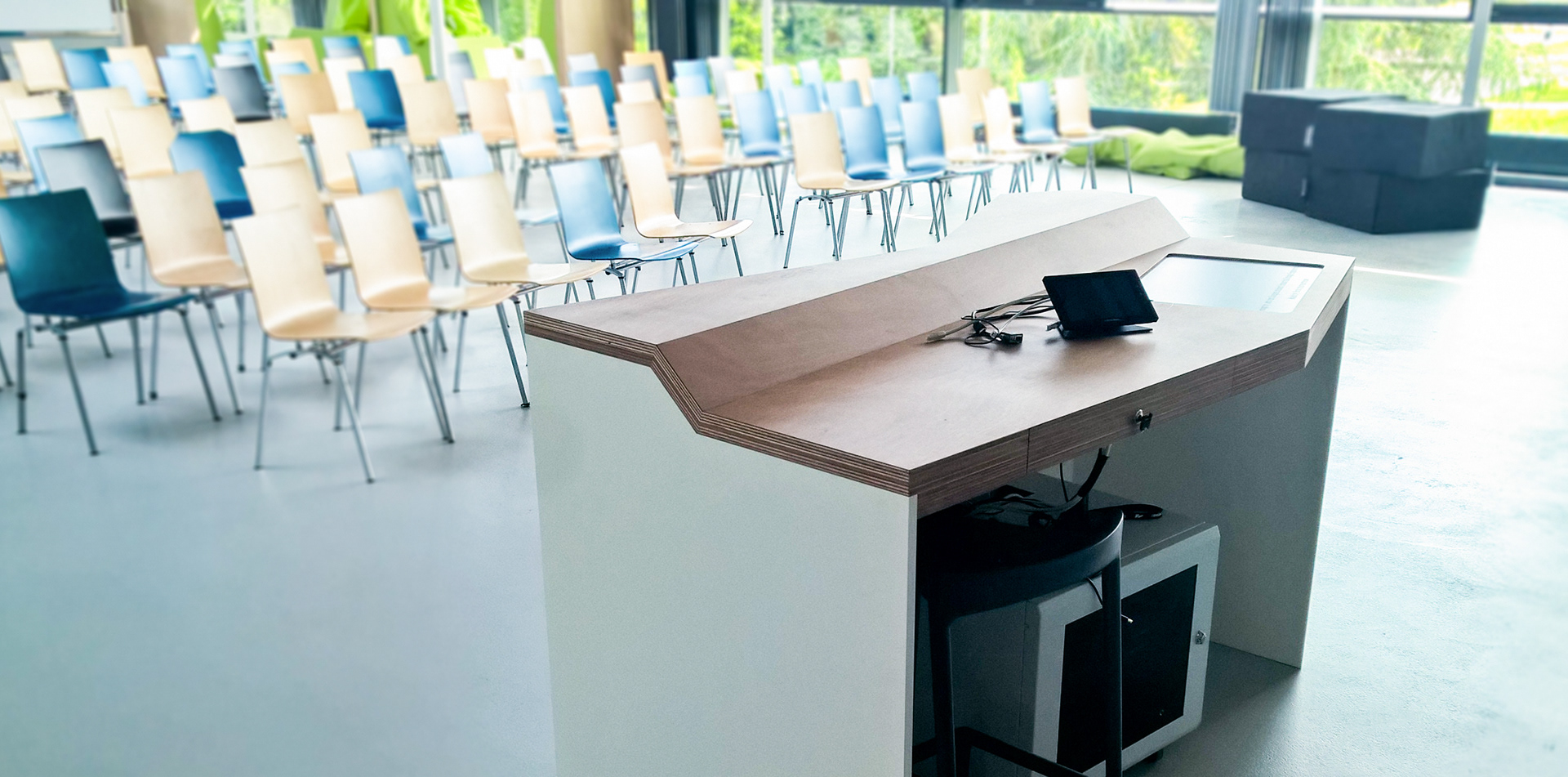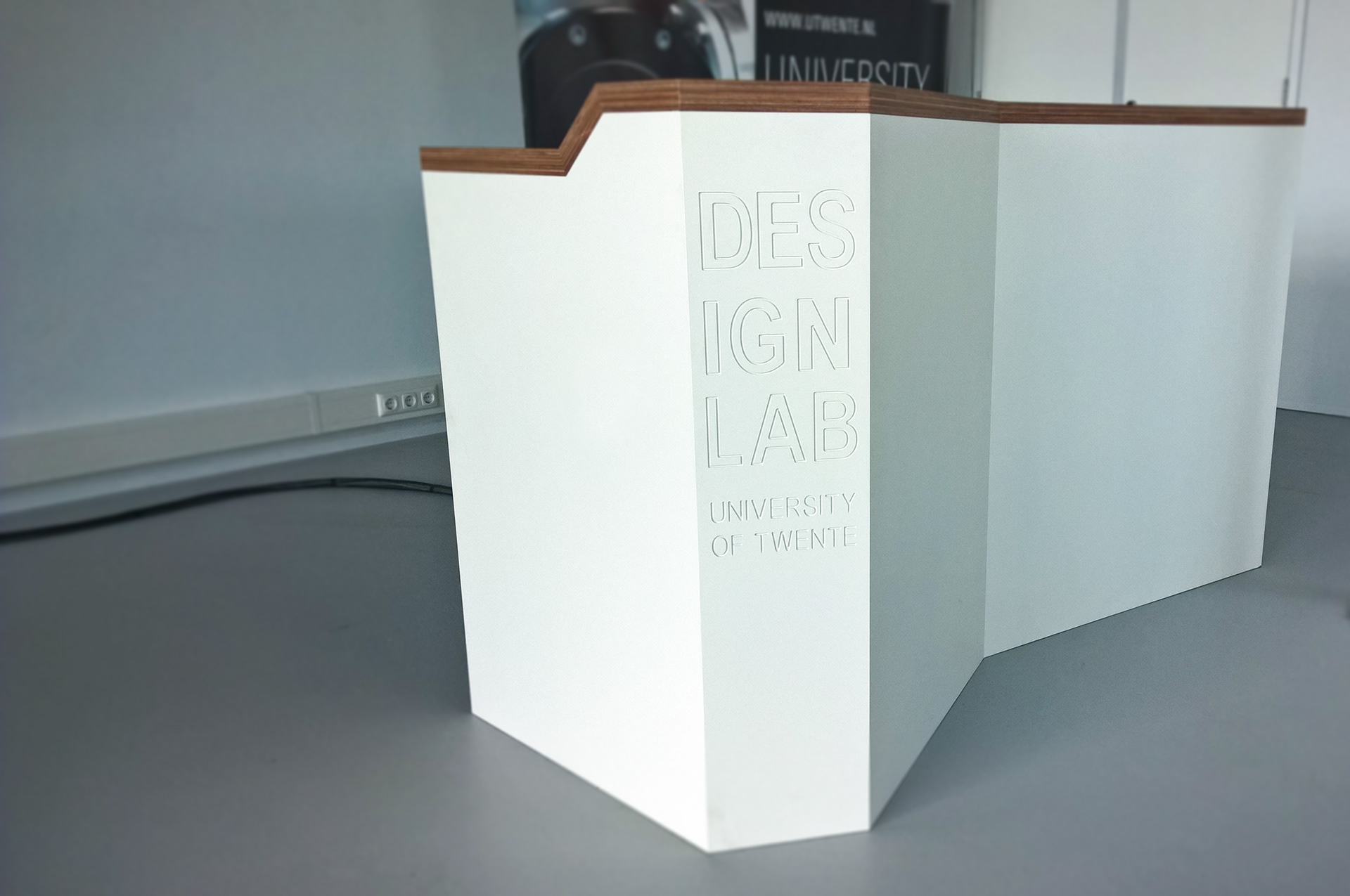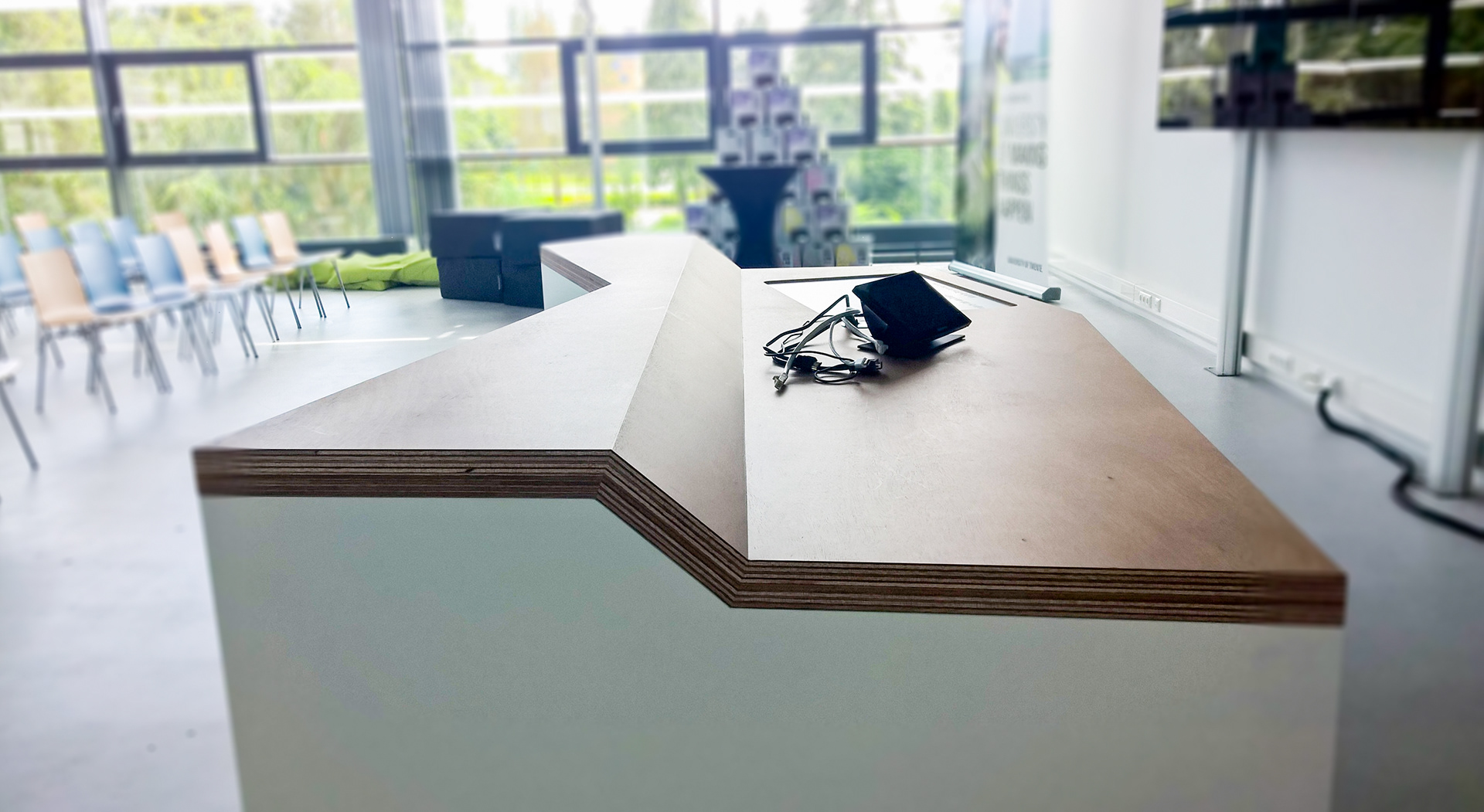 Lectern
 was designed for one of the lecture halls in the DesignLab and was b
uilt by Brok Interieurbouw B.V.

 The two-leveled desktop hides any item that is stalled out from the audience .The angle on the presenter's side allows him/her to move towards and away from the lectern in a smooth and open manner. Lockable drawers enable for laptop storage and are flushed with the dekstop, hiding it.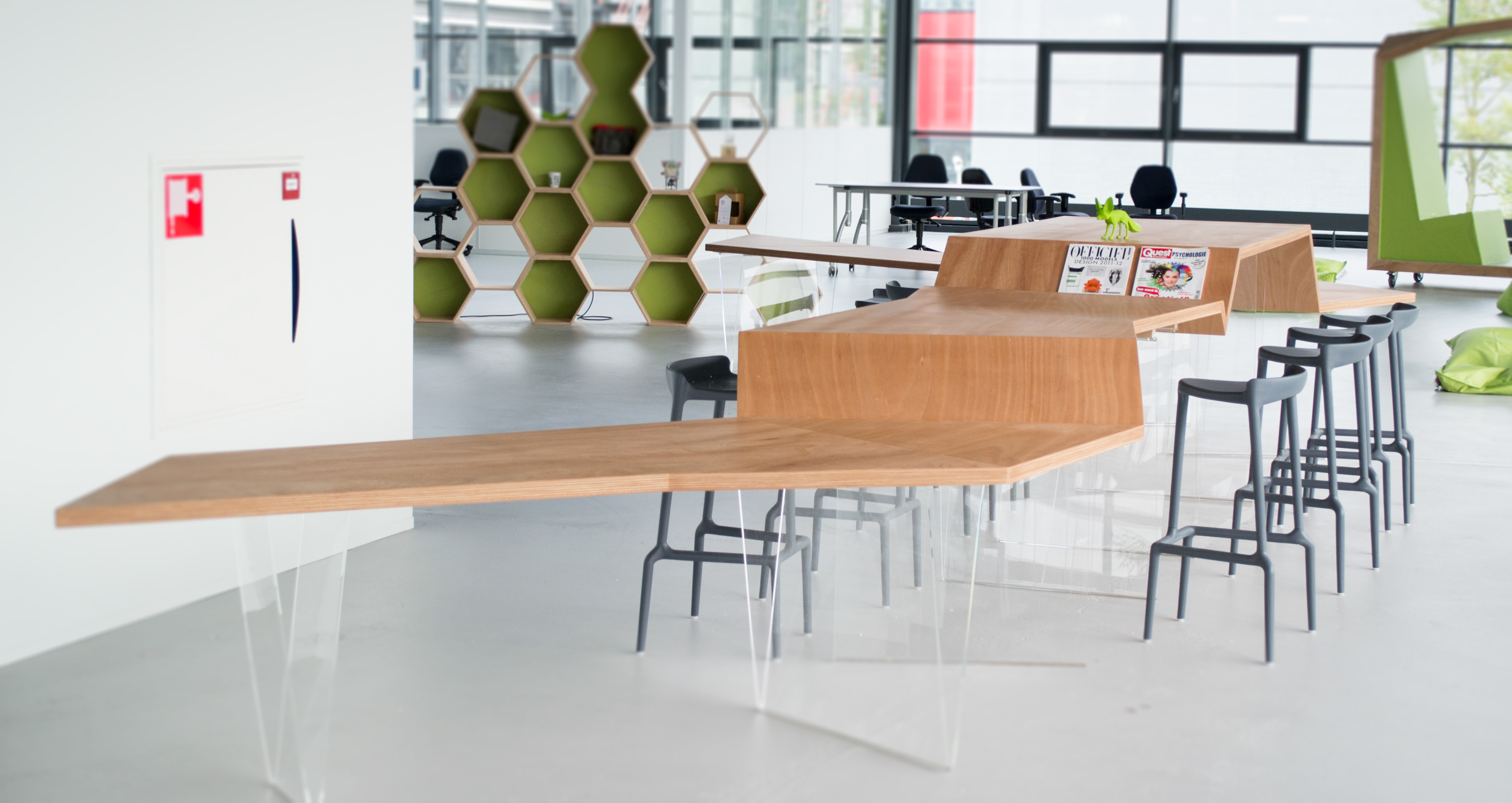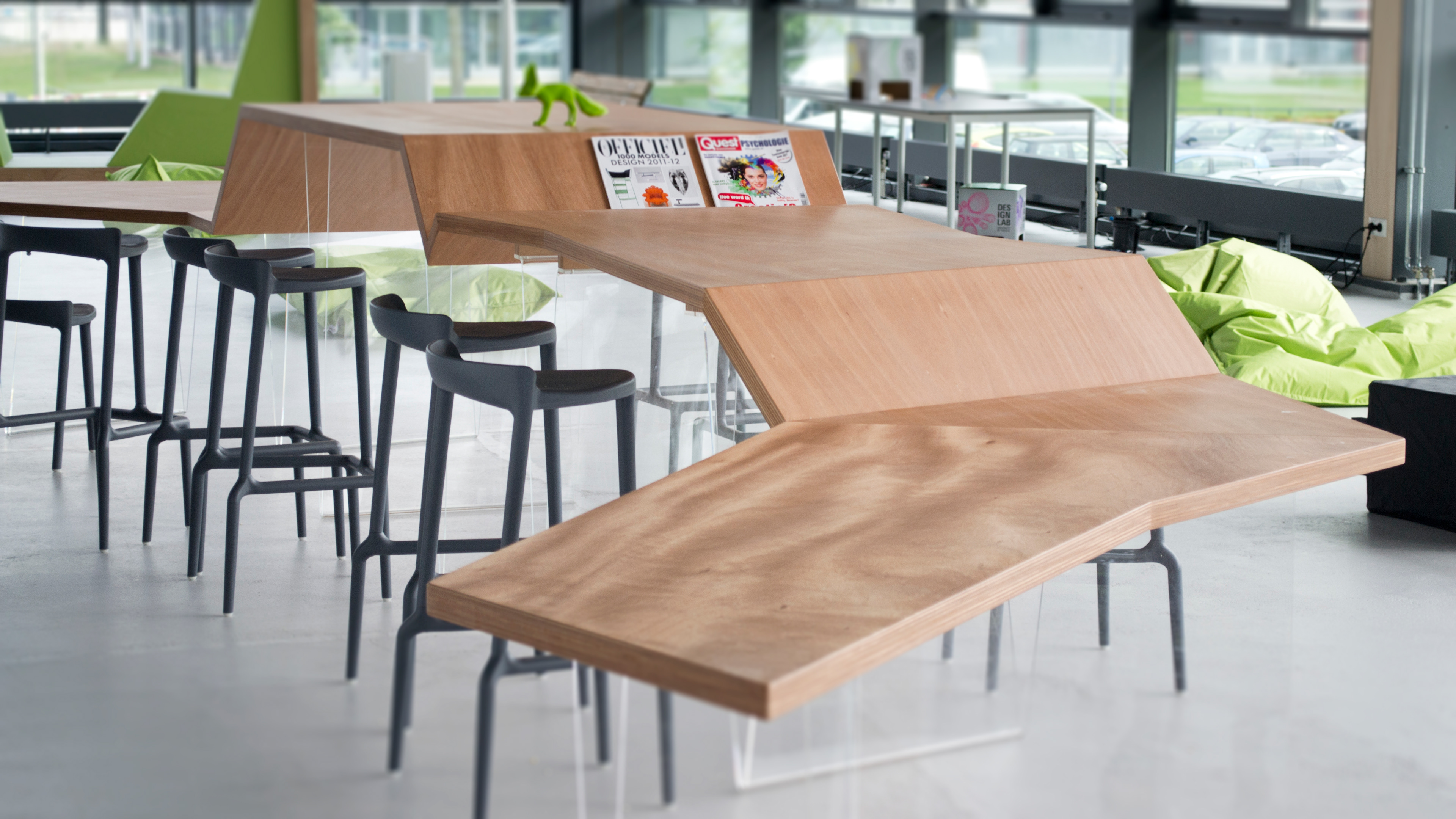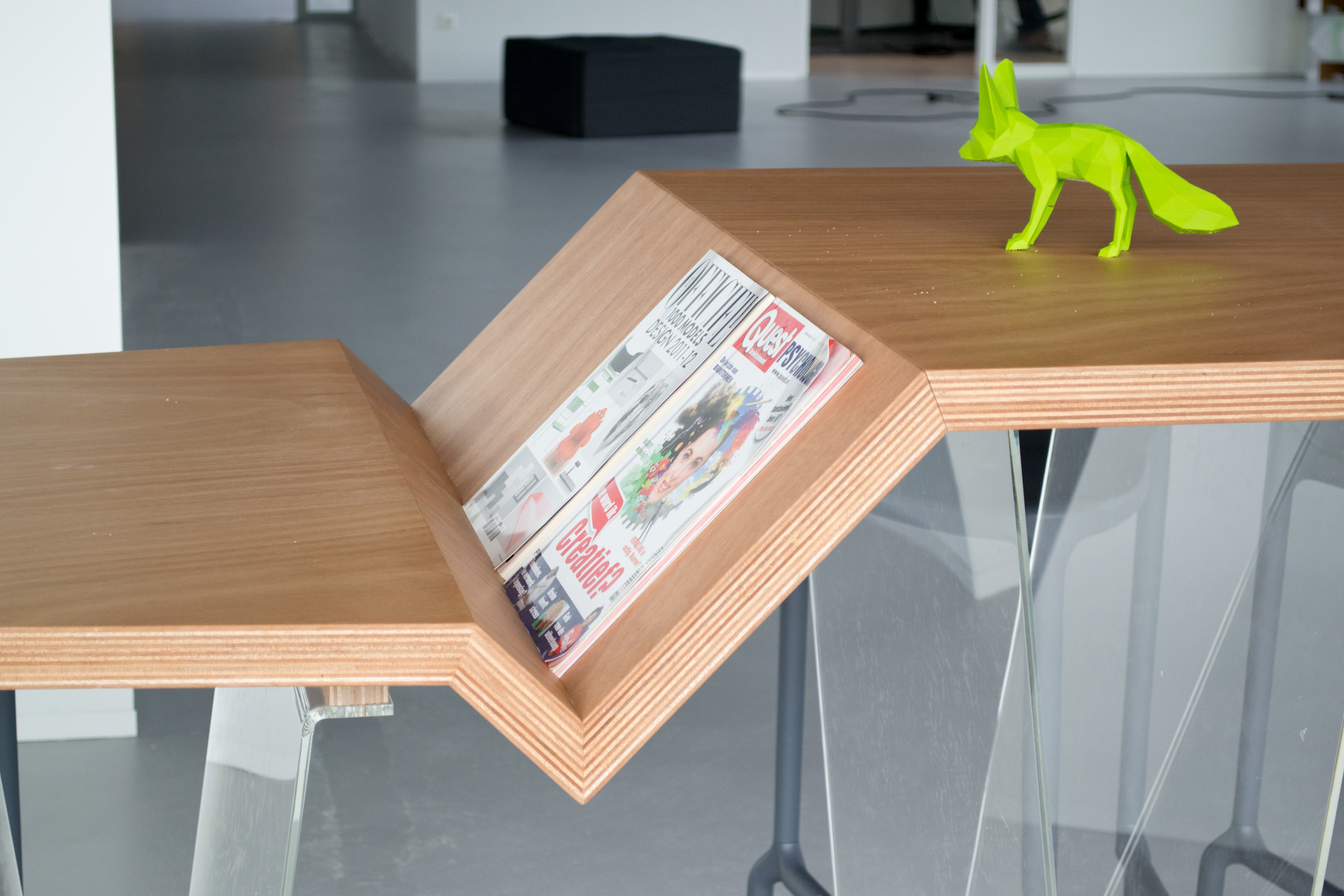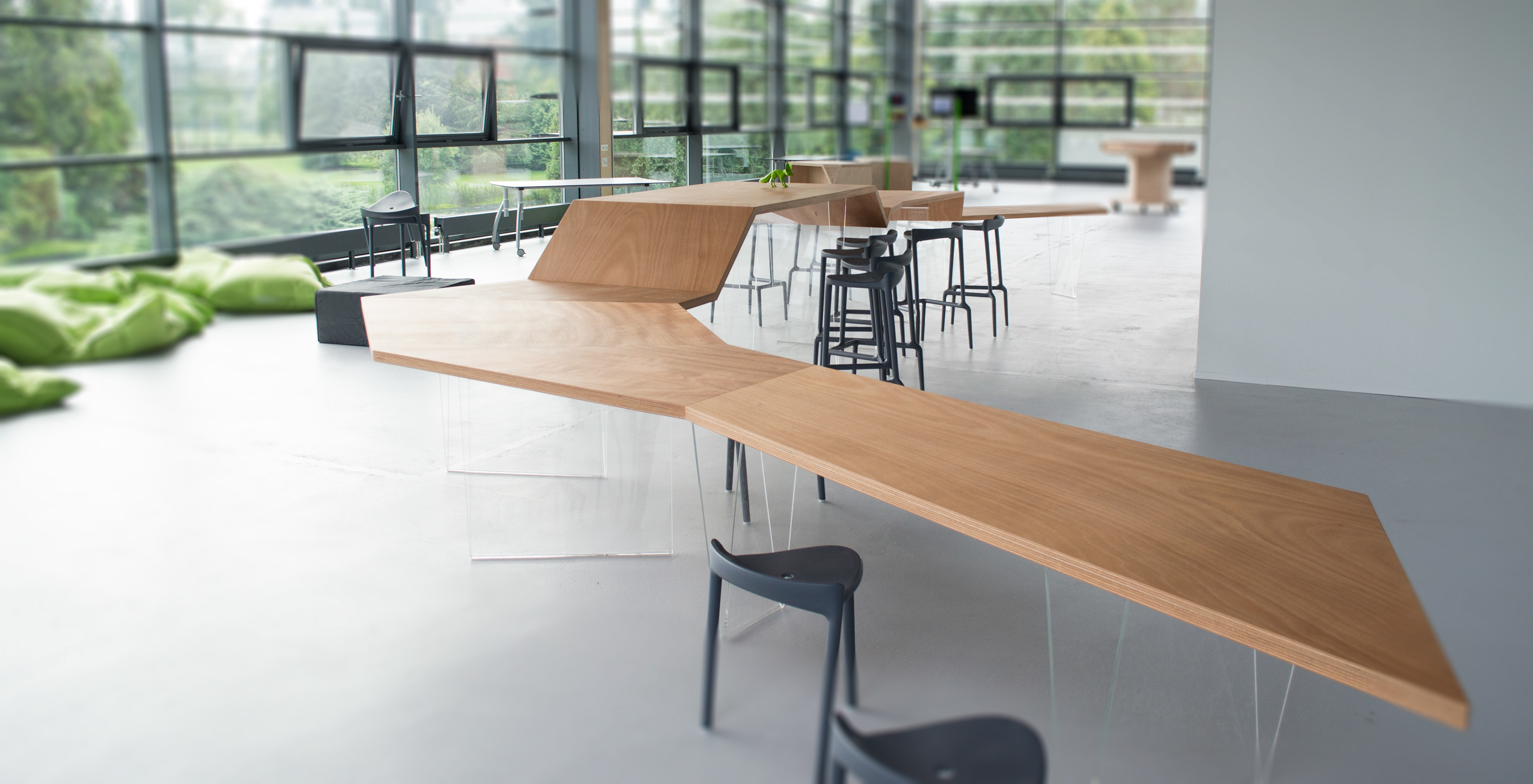 Family Table
 was desiged as a connection between the ideation, break and conceptualization space in the DesignLab. It is b
uilt by Brok Interieurbouw B.V.

  
The main idea behind this table is that it allows for multiple people to sit at the table while still being separated  by means of the different levels. Transparent legs create the illusion of a floating surface. One of the angles doubles as a magazine storage. 
The different levels play with the human imagination, and allow people to position themselves at a level that they are most comfortable at. 
Special thanks to Jorien Alers, Ruud van Leeuwen and Niek van den Hout for their coordination throughout the project.